Inside, Outside and Everywhere In Between
Voices of Resistance: Muslim Women on War, Faith and Sexuality. Sarah Husain, editor. Paperback, $16.95. 320pp. Seal Press, 2006
To be a Muslim woman, living and writing about it in the West is an act of irony. Nobody is more alive to this than Sarah Husain, editor of the newly released anthology of Muslim women's writings, Voices of Resistance: Muslim Women on War, Faith and Sexuality. The publishers of this book, who had reached out and offered to publish Sarah after seeing her call for submissions, suggested putting the image of a veiled woman's face on the cover, after refusing to have the Arabic word "Iqra" (also, the Quranic injunction to "Read") in the title. "I am so sick of all this focus on this one stupid piece of cloth. It doesn't matter what we wear," says Yemeni-American writer, Munera Ahmed, one of the contributors in this anthology, in an imagined conversation. On the next page, Z. Gabriel Arkles ends an account of living and going to school as a Muslim transsexual person in the heartland of right-wing Christianity, on a wistful note, "[The scarf] is the only article of "women's clothing" that I have missed wearing." One of the many graces of this anthology is its ability to successfully resist the temptation to simplify Muslimness into one kind—whether geographically, sexually or in terms of the many nuances of the Great Veil Debate. There are no celebrity endorsements here for a certain kind of Islam, there is no list of permissible ingredients that can go into a canned version of good Muslimness, whether by the standards of the patriarchies inside or the colonialism outside. The market as Sarah points out in the introduction, is hungry for such voices. But thankfully, the writers in this book stand outside the margins of that feeding frenzy.
This range extends into the genre and tone of the anthology. Poetry, fiction, and non-fiction sit side by side with photography, collage, and painting. An exchange of letters between three friends as they open their hearts and "dig through Islamic memories" provide a poetic counterpoint to a powerful (and successful) letter-writing campaign by New-Jersey based attorney, Engy Abdelkader who was harassed in a Newark courthouse. A comic character portrait of a Thai grandmother shrieking "Haram! Haram! Haram!" weaves itself into the book amidst painful accounts of violence. The anthology is divided into four sections, but the borders between them are blurred and the non-linearity of herstories is effectively captured in the ensuing multiplicity. The fragmentation is so intense that sometimes a single writer tells several stories.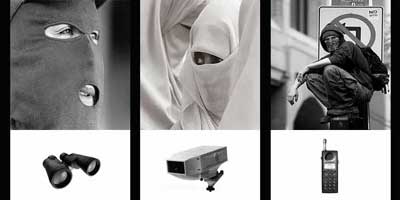 Launch a slideshow of selected artworks from this book.
One of the reasons why the book pushes the borders of literary categorization is that it was conceived in the spirit of collaboration rather than auteurism, less as a work of literature and more as a means to create a community. In April 2004, Sarah Husain found herself in suburban Florida, raising a child amidst the fault lines of racial politics in Tallahasee. Cut off from the activist communities that she had surrounded herself with in New York, and frustrated at the blatantness with which American violence was being perpetrated in the Muslim world, Sarah conceived of a book that would create a virtual community of Muslim women registering the anger and grief that go unvoiced in the typical rescue narratives that mainstream media prefer to fit them into. Hundreds of submissions later, the book took shape with the overarching theme of antiwar rallying. The battlefields are not always outside—the writers anthologized in this book recognize that their bodies and minds are at stake too.
Similarly, their defiance is layered. Many of the writers reclaim faith—that old monster from childhood nightmares—as a source of empowerment. And this is a truly courageous negotiation, considering the perils of being considered a "practicing Muslim" whether by rightwing majorities for whom anything Muslim is a dirty word or by the cross-section of liberal Left for whom faith is not in fashion right now.
This is not an easy book. Do not expect neatness and do not expect textbook formalism. A book that addresses the most tortured themes of our times—violence, spirituality and sexuality—cannot be polite and ladylike. This also brings into question the accessibility of the book for and by the people who should read it the most. Its forthrightness will be interpreted as hysteria and its multiplicity will be dismissed as incoherence. But to those of us who have been longing for a representation of our selves that does not reduce or simplify, the rejected title of the book, Iqra, holds as much significance today as when it was enjoined, a long time ago, in a mountain cave to a seeker of meaning.