Of Silences, Suffering and Solidarity: Facing South Asia's "Original Sin"
We shall meet again, in Srinagar,
by the gates of the Villa of Peace,
our hands blossoming into fists
till the soldiers return the keys
and disappear
–Agha Shahid Ali, Kashmiri poet

For us, Azadi (independence) means not just getting rid of foreign occupation of our beloved motherland but also to remove hunger, poverty, ignorance and disease and to overcome economic and social deprivation. One day, we shall achieve that Azadi
—Maqbool Bhat, founder of JKLF, hanged by Indian authorities in Tihar jail in 1984
In April 2008, the Association of Parents of Disappeared Persons (APDP), a Kashmiri human rights group, which had for the previous 14 years been seeking to know from Indian authorities the whereabouts of their forcibly disappeared family members, came out with a startling report, Facts Underground, which claimed that their kin may have ended up in the thousands of unmarked graves that dot Indian-controlled Kashmir. In the summer of 2011, after it became too hard to deny in the face of piling evidence, those fears were partly acknowledged by the Indian government's State Human Rights Commission (SHRC)when it announced the finding of close to 2,730 unmarked graves in Kupwara, a border district. A further 3,000 unmarked graves were found in Poonch and Rajouri districts, while reports suggest that many more such graves would surface in Kashmir if the inquiry were expanded. APDP claimed that between 8,000 and10,000 Kashmiris have disappeared at the hands of Indian military forces over the last two decades of armed insurrection against Indian rule in the region. The Indian government, however, continues to refuse to acknowledge either the fact of forcible disappearances or that the people in the graves are Kashmiris. Instead, the hackneyed official lines claim that the graves are of those of "foreign" fighters, regardless of the fact that the SHRC report contradicted this claim by identifying hundreds of bodies as those of local Kashmiris.
Death, deception and denial have been a norm in Kashmir under military occupation. Over the past 21 years, more than 70,000 people have been killed and hundreds of thousands injured, mostly at the hands of Indian security forces. Although, India keeps the number of forces deployed in Kashmir classified, conservative estimates point to a staggering 700,000 soldiers. It is believed that for every 15 unarmed Kashmiris there is one Indian soldier, making it one of most militarized places on the planet.
The architecture of military occupation in Kashmir is deep and dense. Indian army and other counter-insurgency forces have taken over the best lands in Kashmir. They occupy forests and orchards, hills and mountaintops, hospitals and colleges, meadows and lakes, roads and playgrounds. Effectively, they choke Kashmiri people's everyday life, and stifle their decades old demand for independence—facts now well acknowledged by even some top Indian leaders, like L.K. Advani, who recently stated matter-of-factly that it is Indian military presence that keeps Kashmir with India. Moreover, Indian soldiers have a 'free hand' in Kashmir—they are free to kill, injure, and arrest anyone they deem suspicious, or burn houses they feel could be used by militants because they are protected from civil prosecution by the draconian Armed Forces Special Powers Act (AFSPA). It is sobering to remember then that since the last several years the number of armed militants in Kashmir has never been more than a few hundred, and this is according to the Indian government's own estimates.
The report on mass graves, like so much other evidence of Indian military abuses in Kashmir, has not gained much attention in India or elsewhere and it has not been followed in a sustained manner in the Western media which otherwise tends to highlight human rights violations by a number of nations, usually identified cynically as "rogue" or "evil." Could the carefully manufactured image of a vibrant and shining India, the prospects of a hugely potential lucrative market for Western investments, and the strategic uses of such an increasingly compliant democratic ally ready to be used against its "evil twin" Pakistan as well as China, prevent Western censure of Indian atrocities in Kashmir? Could it be that acknowledging the inhumane character of occupying Kashmir through military might and its attendant violations of dignity, life and livelihood of Kashmiris would expose the hollow core of India's claim to be a global player with hoary democratic credentials? To redeploy Faiz in this postcolonial context, "There are signs of blood everywhere…the executioner's hands are not clean…the ground is stained…blood is written in history." All despite attempts to make them vanish.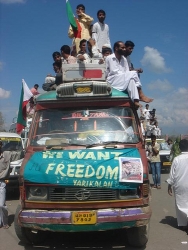 photo by: kashmiridibber
Verily, these are the sounds of silence of the intellectual and middle-classes who wax eloquent about India's democracy in the face of deepening suffering and sacrifice at the altars of the market, hegemony and nationalism. This silence is not simply double standards, but a carte blanche on human rights abuses rewarded through multi-billion dollar defense contracts. India is after all now not only the "world's largest democracy," but also the largest importer of weapons in the world. A number of these weapons, from Israeli-made Tavor guns to US-made Taser guns and pump action pellet rifles, find their way onto Kashmiri streets and the countryside where they are used against unarmed Kashmiris. Last year alone, 115 young Kashmiri men and women, including children as young as 8, were killed by Indian soldiers.
In an age of unprecedented mediated realities, it is not surprising that in India, the mainstream national media has been complicit in misrepresenting the Kashmiri struggle for independence as a "Pakistan-sponsored Islamist" movement, creating a nationalist hysteria in India around the Kashmir question. Instead of acknowledging the democratic right of self-determination of the Kashmiri people, Kashmir, in the popular Indian imagination, is to be territorially assimilated even without reference to the wishes of its people. For long India has now been unilaterally totting the line that Kashmir is an "integral part" of India, which not only goes against a series of UN resolutions passed in this matter, but also the assurances that erstwhile leaders like Nehru made to Kashmiris about holding plebiscite. These assertions, based on false constructions of history and mythic-nationalist narratives, run aground because an overwhelming majority of Kashmiris haven't reconciled to the dominative "idea of India" that is being imposed on them, and have repeatedly demonstrated that they don't want to be part of it.
While Indian nationalist narrative effaces Kashmiris from Kashmir, instead locating the main 'instigator' behind the movement in the Pakistani military establishment, Kashmiris are not passive, far from it; they are the principal force behind their struggle for self-determination. Kashmiris see themselves as the primary and the only legitimate voice when it comes to deciding the future of Kashmir. In this light, territorial claims of India (or for that matter those of Pakistan) on Kashmir are not only ahistorical, but also anti-democratic.
In such a tragic context, the reference to "original sin" in the subtitle serves as a reminder of the fundamental and multiple contradictions that impede the emergence of the category South Asian as a powerful counter to national chauvinist and imperially-shaped identities: the sin at birth by the two independent nations of South Asia to deprive Kashmir of its independence, the sin at birth of coveting, the sin at birth of reneging on the UN resolutions, and the impact of this sin that gets transmitted to successive generations. The invocation of such a religious metaphor is only to make the larger point that unless the original sin is addressed by the two nations, nothing is redeemable in South Asian life.
Such is the challenge of liberation and it is good to remind ourselves that no counter argument for Kashmiri azadi has any moral standing: it is almost always made (by both Indian and Pakistani ruling classes) and repeated (until it becomes popular prejudice), on strategic grounds that themselves derive from imperial assumptions. For, Kashmir never belonged to either Pakistan or India; yet the hawks on both sides routinely assume Kashmir as their "natural possession," much like colonial masters.
By their very nature, states engage in spinning national mythologies that seek to entwine and entrain their populations in the everyday task of reproducing the legitimacy of the state. The questions we hope to have highlighted in this short essay are: What are the costs of the selective silence on the part of Indians and Pakistanis about the ongoing sufferings of Kashmiris and their rights to self-determination? What does it mean to suffer when the world refuses to see or acknowledge this as a fact? How can Indians and Pakistanis be at peace when they make Kashmir their terrain of war?
South Asians need to rise in solidarity with Kashmiris to set a new foundation for democracy and decency. If we cease to mistake Kashmir as a territorial dispute between India and Pakistan, and instead understand it accurately as a 'national question' of Kashmiris, a way emerges toward a solution. Kashmir is a key to resolving militarisms and potential conflicts in South Asia. From a bone of contention, Kashmir can become a bridge of peace. For an effective, longing peace, both India and Pakistan need to not only demilitarize Kashmir but also ensure a free, independent Kashmir through internationally guaranteed agreements. Removal of AFSPA, freeing of political prisoners, and demilitarization (perhaps under international supervision), constitute the first steps in such a process. Kashmiri leadership, freely and fairly chosen by Kashmiris for the express purpose of Kashmir's independence, must be recognized by both India and Pakistan as well as internationally, to negotiate this outcome.
In the film Slumdog Millionarie, Jamal (the protagonist) correctly answers questions based entirely upon his experiential knowledge growing up in Mumbai slums and his prodigious memory which serendipitously leads him to the right answers. Tellingly, Jamal's experiential knowledge did not allow him to correctly guess the answer to the second question, which the uniformed inspector brutalizing Jamal was convinced that "any five year old" could be expected to know. That question – which Jamal answered using the audience as his "lifeline" – concerned the inscription that proudly underscores India's national emblem, its national motto if you wish-satyameva jayate, or, Truth Alone Triumphs. How long will the experiential knowledge of the bulk of South Asia's population remain at odds with nationalist mythmaking of its state and ruling classes?