The Berkeley South Asian Radical History Walking Tour: Building Our Movement, One Story At A Time
It's a comfortable August afternoon in Berkeley, California, and the seventeen participants and two curators of the monthly Berkeley South Asian Radical History Walking Tour form a circle and introduce themselves to each other.

Walking tour participants tend to be primarily South Asian, including recent immigrants, UC Berkeley students, activists, and suburban families. Non-South Asians often include history buffs, activists, academics, and friends and partners of South Asian attendees. But today's tour is different. Through a remarkable coincidence, attendees includes three daughters of Ghadarite families, a Ghadar researcher, an artist who retells the Ghadar story through dance, as well as a representative from the Indian consulate passionate about preserving Ghadar heritage. When introductions are over, an attendee raises her hand. "So what exactly is the Ghadar Party?" she asks, sounding confused. We'll get to it soon enough, we tell her, but we also have many other stories to share.

Barnali Ghosh and I have been curating the Berkeley South Asian Radical History Walking Tour for just over a year now. We both moved to Berkeley, California in the 1990s, Barnali from Bangalore, and I from the San Francisco Bay Area suburbs, where we got involved with South Asian American organizing, met (at a screening of Muktir Gaan, naturally), and eventually got married. As we grew deeper roots in Berkeley, we were delighted to realize that we were walking a well-beaten path. Through conversations with older activists, reading works of South Asian American history, and in digging through physical and online archives, we started finding evidence that our communities were building on a rich heritage of radical South Asian American history, situated on the very streets we walked everyday. We started mapping out the stories, developing a script to chain them together through place-based performance.

The Berkeley South Asian Radical History Walking Tour made its debut at the 2012 Bay Area Solidarity Summer (BASS) summer camp. The youth loved experiencing history on the streets, so we turned it into a ticketed monthly public event, with all proceeds benefiting projects like BASS, the DesiQ 2013 conference, and the South Asian American Digital Archive (SAADA). In August 2013, we finished our thirty-fourth tour, reaching over five hundred participants over the course of a year.

The tour starts with queer histories. We visit sites on Telegraph Avenue associated with "Tinku" Ali Ishtiaq, a long-time Berkeley queer, Bangladeshi, and Palestine solidarity activist, and one of the earliest members of Trikone; as we tell his story, I explain why he's been such a role model for me, for his ability to balance family, professional, and activist commitments. As we stroll towards the UC Berkeley campus, Barnali points out the building where R.K. Narayan wrote The Guide. Minutes later, the group starts to hear chanting: iconic local anti-Emergency protests from the mid-1970s brought to life through street theater, based on photos and descriptions by activist-archivist Sharat Lin. Masked actors describe their struggle, as audience members take photos on their smartphones. We keep walking, and soon reach hallowed ground: the site of a 1908 anti-imperial lecture hall occupation by sixteen South Asian students, half a century before the Free Speech Movement.
An hour and a half into the tour, we finally get to the story of the Ghadar Party, told through a dramatization of the life of Kartar Singh Sarabha, a UC Berkeley undergraduate and Ghadar organizer turned martyr for the struggle against colonialism. We narrate the Ghadar story using today's language, describing student-farmer alliances, a landscape of American racism that hits home in post-9/11 America, and links to labor groups, anarchists, and Irish nationalists that help our diverse audiences understand how the Ghadar Party fit into 1910s Bay Area.

We stop after every story for questions and comments, but today, with an audience full of Ghadar experts, it's they who teach us.

Ayesha Gill, a respected activist in her own right, shares the story of her mother Kartar Dhillon (an activist who inspired many SAMAR readers) and her uncle Bud Dillon (a Ghadarite who returned to Asia to fight colonialism); she goes on to describe the role the IWW and other labor groups played in supporting the Ghadar Party.

Balwinder Kaur Singh describes the life of her grandfather Bhagwan Singh Gyanee, from his daring escape from India to his leadership role in the Ghadar Party. Her daughter, Joti Singh, is a choreographer; she explains how her latest dance project, "Red, Saffron and Green," explores themes of colonialism, immigration, and activism through the lens of her great-grandfather's story.

Simmy Makhijani, a long-time Bay Area organizer now working on a dissertation grounded in Ghadar history, adds context. In response to an audience question, she explains how the Ghadar Party changed after the Hindu-German Conspiracy Trial, and went on to inspire revolutionary movements the world over.

And finally, Anand Jha, the consul on community affairs and culture at the Indian Consulate in San Francisco, describes the Indian government's plans to restore Ghadar Memorial Hall and to turn it into a museum. We've been talking to him about the need to frame the Ghadar story as part of California's heritage, rather than as a narrower story of Punjabi martyrs—a common framing among the local California Ghadar heritage advocacy community. Jha has brought books about the Ghadar Party with him, and he ensures that every tour attendee goes home with a book on Ghadar history.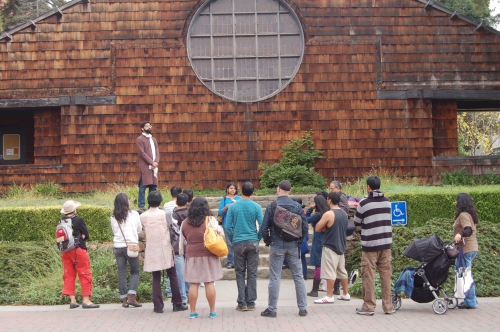 Using street theater to tell the story of UC Berkeley student and Ghadar Party member Kartar Singh Sarabha, who inspired Bhagat Singh - photo credit: Erik Hopp
It's a magical moment, to see Ghadar stories being told through so many lenses: family, labor, artistic, political, and institutional. The Ghadar centennial has been celebrated across California in a wide variety of venues, but our various angles are rarely in dialogue. California Punjabi communities, who have done so much to preserve Ghadar heritage, often seem to be speaking to themselves (and wondering why youth seem not to be interested). Decontextualized images of Ghadarites lined the streets at our local 2013 India Day parade, the relevance left unexplained. Meanwhile, the left looks back to our figurative radical ancestors, but so rarely in dialogue with the party's actual descendants.

This is our opportunity as a movement: to not only join hands with a wide variety of constituencies honoring Ghadar heritage, but to give it relevance. We can take an active role in contextualizing Ghadar history for those who aren't being addressed (e.g. youth, non-Indians, non-Punjabis, non-South Asians), and make explicit the deep links between Ghadar organizing and contemporary struggles like the decolonization of the climate.

The group's conversation continues as we head to the final stops on the walking tour. We tell the story of Lakireddy Bali Reddy, the infamous Berkeley sex and labor trafficker whose story is often shrouded in gossip. And we share the community's response, including the work of the Alliance of South Asians Taking Action (ASATA), founded to take on the Reddys, doing the intersectional feminist activism that added to the work of local service providers Narika and MaitriWe end the tour at Berkeley High School, remembering the wave of hate incidents after 9/11, and performing the story of Cultural Unity, a group of Pakistani Muslim and Indian Sikh students at Berkeley High who built powerful multiracial coalitions against hate in the weeks after 9/11, transforming the atmosphere of their school.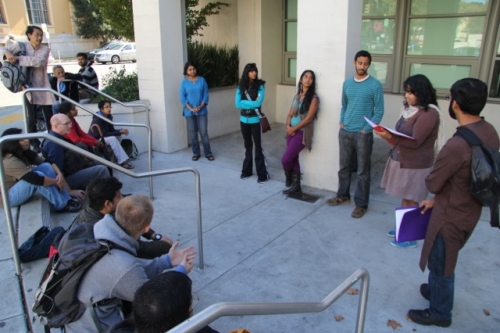 Learning the story of Pakistani and Indian youth resistance to post-9:11 harassment - photo credit: Ravi Chandra
It's been almost three hours since we left our starting point. We finish the tour by foregrounding the common threads running between the organizing histories we explored. From pre-Ghadar to post-9/11, South Asians in Berkeley have been organizing for justice for over a century, and that history is as much part of our tradition as the stories of model minority success I was fed as a child growing up in the suburbs of Silicon Valley. With just a few minutes left, we ask audience members to share their favorite stories from the tour. We get emotional as audience members stand up, and one by one, start connecting the histories with their own life experiences. Afterwards, a few audience members come up to ask how they can get more involved with local organizing. By sharing our radical heritage, we help ensure its continuation.