United States of Dissent: Converging Political Imaginaries of the Ghadarites and Black Panthers
July 26, 2013. Ayesha Gill, a 79-year old third generation descendant of Ghadarites, stands tall, her slow-paced walk perhaps the only giveaway of her age. At her side is 65-year old Ericka Huggins, a former political prisoner and Black Panther leader, radiating elegance and charm. Fifteen young South Asian American women, ages 15-21, gather around these two central figures with notebooks in hand, not sure exactly what they are about to hear. They know of the Black Panther Party (BPP), but only discovered the Ghadar Party the night before, and are eager to learn more. It's the second day of Bay Area Solidarity Summer (BASS), a five-day South Asian activist youth camp held annually in Berkeley, California. Tension and excitement fills the air. These youth, only just getting to know each other and the core organizers of the camp, shuffle seats, glance upwards, anticipate.
The idea to invite Ericka and Ayesha to the camp for an open dialogue that incorporated themes and questions posed by BASS youth – was strategic. By having two revolutionary women of color share their lifelong histories of political engagement, this conversation cast Ghadar history through the lens of what Vijay Prashad calls a 'polycultural' radical tradition. The political strategy of Ayesha and Ericka coming together at BASS is itself one of resisting simple multiculturalism. These two inspiring women both carry a history and contemporary practice of antiracist struggles with a fundamental refusal to assimilate. And the movements they've been linked to resolutely affirm solidarities across oppressed communities, making visible the shared struggles that have shaped anti-state militant movements in the U.S., from Ghadar to Black Power to Occupy, and in the process made more legible South Asians as a racialized community in the U.S.. We, too, have a history of being reviled and excluded, a history that has fueled Afro-Asian American solidarities that echo, still.
At the turn of the twentieth century, South Asian expatriates in Northern California and Oregon, among them Ayesha's grandparents, Bakhshish Singh and Rattan Kaur, established the Ghadar Party. Headquartered in San Francisco in 1913, the Ghadar Party was not only an anti-colonial/anti-imperial mobilization, as Ayesha attests, but also an anti-capitalist network committed to economic egalitarianism and social enfranchisement for all peoples everywhere. When Ayesha explains that, "The main thing that drove my family was freedom from British colonial rule," snaps, smiles and soft claps erupt among the seated youth. She continues, "Beyond fighting for India's freedom, the Ghadar Party was fighting for social and economic justice. The British aren't there now, but we still don't have social and economic justice in India [or here]." "Ghadar is still relevant," she insists. "The struggle goes on." The imaginary lives on. Ghadar radicalism goes far beyond its anti-colonial beginnings, and into the living politics of self-determination and shared struggles against racism and class oppression. Ghadar's commitment to collective political emancipation for the working-class involved tactics of non-cooperation and direct action. It developed and benefited from diverse transnational solidarities with Irish republicans, Egyptian nationalists, Russian revolutionaries, and American working-class and socialist movements. These politics made Ayesha who she is and tells us something about both the political imaginary of Ghadar and its resonance with post-Ghadar struggles such as those of homegrown black radicalism.
The dialogue continues, now with youth participants posing questions. When asked how long she's been an activist, Ayesha narrates her mother's history, as much as her own: "I was an activist at birth. When my mother was pregnant with me, she went to visit a woman who had been jailed for syndicalist-anarchist activity, that is, trying to form a union." This was just the beginning as she went on to do a lot of her early political work with her mother, Kartar Dhillon. Kartar had been a labor activist and journalist/writer throughout her life (having once aided Black Panther Kathleen Cleaver with writing). She worked at many trades: secretarial and pizza house/Indian restaurant waitress jobs, often both at the same time, and defense jobs during the Second World war, including a Boeing factory machinist and Marine Corps driver, all while raising three children, mostly on her own. Kar, as she's affectionately called, was a member of the Ghadar Party along with her husband; her parents founding members. She learned to balance waged labor with unwaged labor to maintain a home and participate in radical politics. In 1945, Kar decided to end her marriage. Her husband went back to farming while she remained in San Francisco with her three children so that they all could access greater educational and cultural opportunities.
Ayesha grew up in this home, one of political strength, in San Francisco, around the time of the Second World War. She was raised fiercely anti-racist. She and Kar joined a protest against a meeting of the Ku Klux Klan permitted by the San Francisco school board at Commerce High School, a school which Ayesha herself would later attend. Both of them participated in protest actions against police brutality, Ayesha noting in much later years, going to Oakland BPP headquarters with her mother when it was under attack (to protect it with other non-black community members). She joined the American Youth for Democracy at the early age of 12, in hopes of learning political theory (and being quite disappointed to find it was more of a social group than anything else). And though she didn't win, she was the first young woman to run for high school class president in San Francisco, continuing in this trajectory of activism to later work with the Congress of Racial Equality and actively participated in the Free Speech Movement and Third World Strike, while also co-organizing the first graduate student teacher union in the country at the University of California, Berkeley. After earning bachelors degrees in physics and Slavic languages, and a Ph.D. in genetics, she worked in these fields, researching, university teaching, translating, and working on public health projects.
Ayesha, like Ericka, is a distance runner, an activist for the long haul. But the parallels run even deeper than that. As Ericka asks Ayesha about her childhood and political life, she also shares details of her own. As two radical women growing up in the vibrant political milieu of San Francisco and Oakland, there were many intersections in both their personal and political timelines. They note how, as children in families from farming backgrounds, they both learned to care deeply for the struggles of the working-class and how their families had emphasized this care for community. They also speak about how they learned early to stand up to injustice in several instances at school and, later, at work and in the streets. And most importantly, they shared how they were connected deeply with anti-colonial movements that exercised and inspired autonomy across far reaching internationalist networks. It's not surprising that that the Ghadar Party of the early 1900s is understood as anti-colonial. However, Ericka elaborated on why the Panthers strategically framed the struggles of black and brown Americans also as those of a colonized people, a struggle closely linked to anti-colonial liberation struggles around the world – where black neighborhoods were not "ghettoes" and brown communities were not "barrios", but colonies, which in the 1960s produced both reflection and agitation.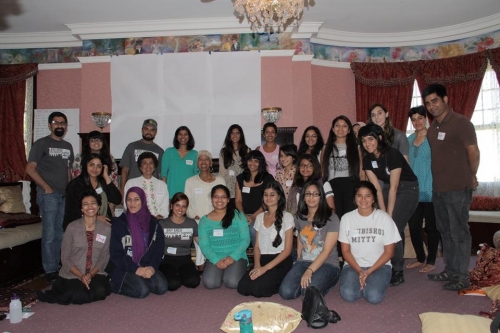 BASS camp participants with Ayesha Gill (2nd row, 2nd from left) and Ericka Huggins (2nd row, 3rd from left).
Though these two women were strangers until first meeting for this convening, it feels as if we're catching dear friends in the middle of an ongoing conversation. Towards the end of the conversation, Ericka discusses the pivotal moment, at age 15, where she vowed to serve the people for the rest of her life, while in attendance at the 1963 March on Washington. Ayesha reveals, in a low tone and a sweet smile, "I was there too." A hush falls over the room as this intersection between two women, across different communities and generations, settles in. What are the chances that two people with seemingly very different histories, who were together at the March on Washington, could have come back together again, 50 years later? These days, Ericka and Ayesha's worlds continue to intersect. You'll still find them on the streets today, whether it is at Oscar Grant rallies, Occupy actions, the fight to keep San Francisco's City College open, or Trayvon Martin marches. And since the camp, Ayesha and Ericka have become interested in participating in contemporary explorations of South Asian American radical history, such as the public radical walking tour, which Ayesha joined and Ericka is soon to follow (see Anirvan Chatterjee's piece in this issue). Their participation in these spaces of remembering ensures these struggles continue to resonate and go beyond what was convened at the camp. What started as an invitation to learn how to frame political questions and recover lost histories in the company of elders thus turned into an invitation to take more seriously the pressing question: what political space are we trying to carve out today, as South Asians, and how might we imagine this in relation to our shared and divergent radical pasts?
Indeed, Ayesha provokes us to look at Ghadar as a living legacy, rather than merely an anti-colonial political organization that lived in a specific moment, or as a social movement with a particular shelf life. Her life testifies to Ghadar's vibrant relevance in the present, evident in the polycultural political life she's led as an activist, confronting America's racial dilemmas, as did her mother before her.
And like this, the inheritance of circulating struggle, across communities, dynamically, with care and force, is passed down from Rattan Kaur, Kar, Ayesha, and Ericka, to us, the next generation of activists living in the Bay Area, the very site that fostered the converging political imaginaries of Ghadarites and Panthers. Shared collective processes enacted as radical democracy, a vibrantly lived history of uniting states of dissent: Ghadar and Black Power. What better way to honor the centenary of the formation of the Ghadar Party and to reflect on how we hear, now, the echoes of this radical past?